Mostly just writing things down to keep track of them.

Menhit Assault Omni Hovercraft.

A super Heavy hovercraft at 90 tons, it combines the speed of a light to medium mech, with the firepower of a heavy mech, and the armor of an assault mech. Though to be fair, with the extra hit locations of a super heavy unit, that armor is a bit spread out.
90 tons 7/11
-18 Super Heavy structure
-18 305 XL engine (-1 Slot)
-9 Lift equipment
-4.5 Controls
-16.5 Ferro Armor (-1 slot)
-2 Turret

22 tons and 21 equipment slots remaining for Omni Configurations

Prime
-14 14 SRM-4
-6 Ammo
-2 4 ERSmall Lasers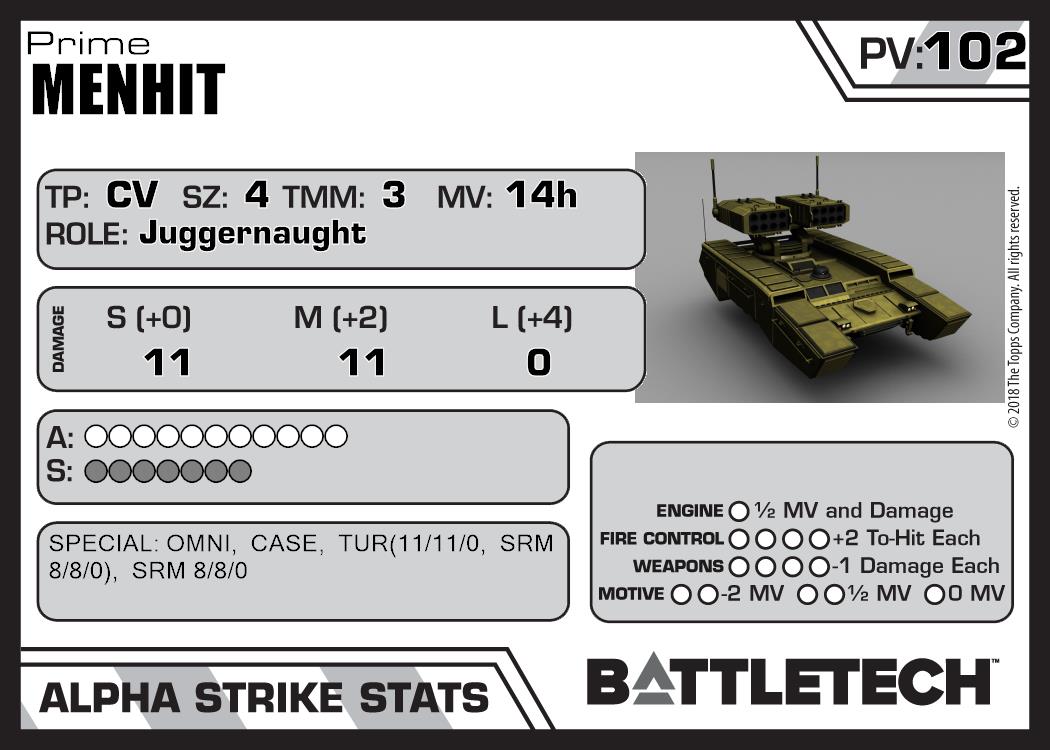 This one is less about creativity and more about pumping up the damage numbers in alpha strike. Originally it was supposed to have a battery of AP Gauss on it, but latter checking showed I ran out of equipment slots that way. So I modified it while keeping the Alpha strike stats the same.

A
-6 4 iATM-3
-2 Ammo
-2.5 5 ERSmall Lasers
-.5 AMS
-1 Ammo
-10 Infantry Transport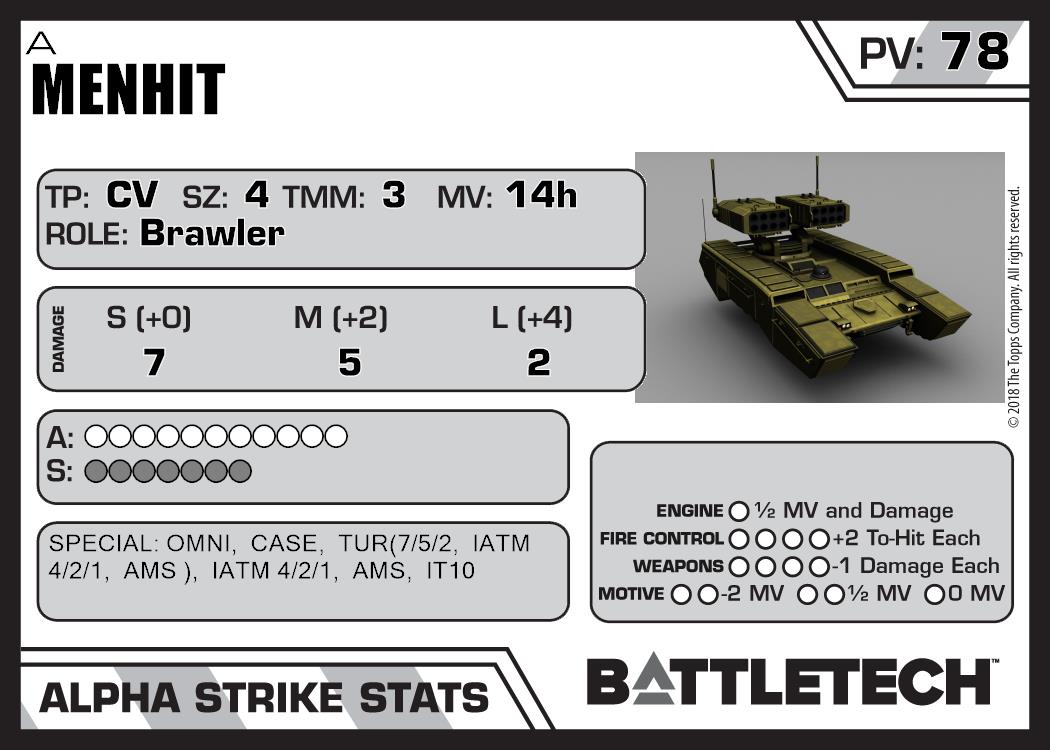 Infantry transport obviously. Not a particularly well made one though. It should have SRM-6's or LRM-10+'s to deploy smoke for cover. Instead it once again resorts to cheap tactics to pad out the alpha strike damage numbers. On the other hand, that is potential for great hilarity with this thing. It can drop 2 points of battle armor in a single turn. And In alpha strike deployed infantry can shoot on the turn they get deployed. So in theory if this thing gets into short range a target could be facing 3 7 point attacks suddenly (Ok, so the BA design will have to be posted at another time.) Also, I should really put a super charger on it...
B
-7.5 3 LRM-10
-3 Ammo
-.5 AMS
-1 Ammo
-6 LPL
-2 4 AP Gauss
-1 Ammo
-1 ECM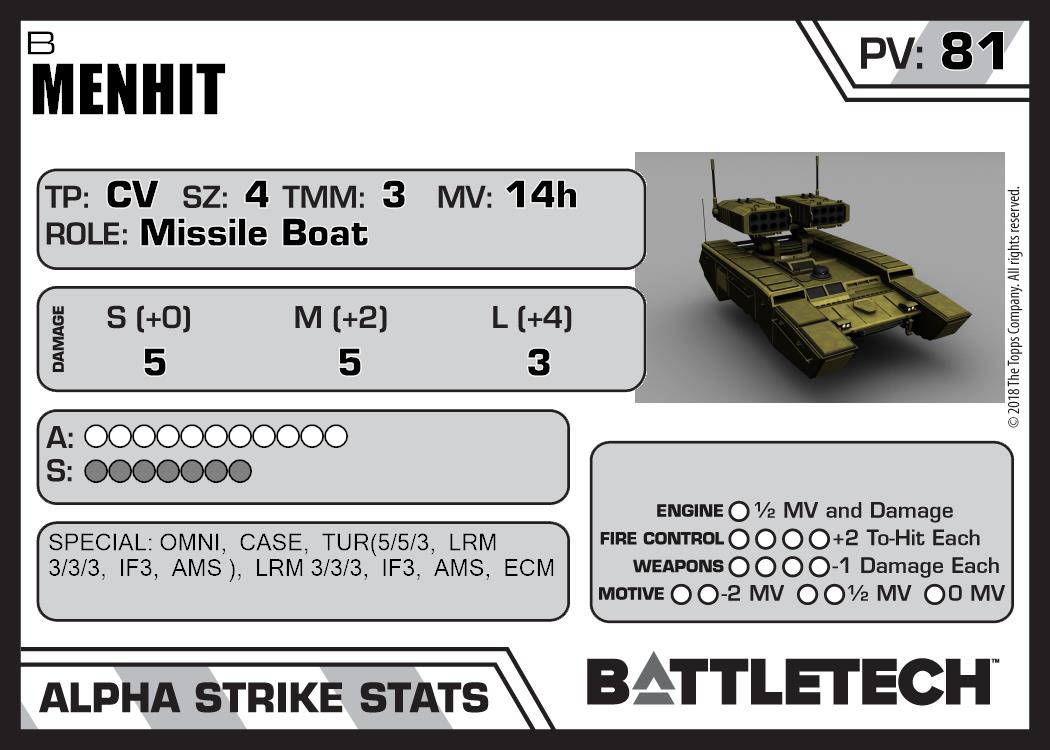 And then I thought, I really miss the Smoke LRM's I should of put on the previous model. And the AP Gauss's from the previous previous model. And this happened. At Least its behaving normally and doesn't have some sort of gimmick behind it.
C
-6 Large Pulse Laser
-13 HAG30
-3 Ammo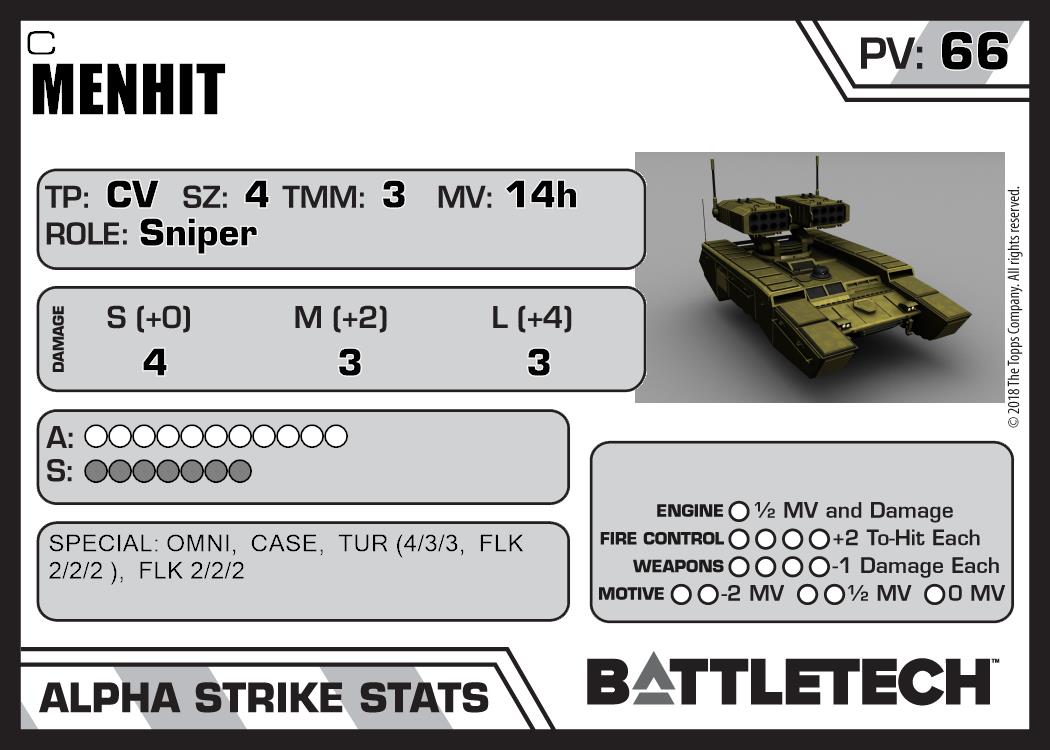 So... Back story... The Menhit is supposed to be a front line Clan Stone Lion design, intended to be able to directly match up against mechs (Even to the point where single Menhit's will challenge mechs to duels). Because after the wars of reaving I really didn't expect the mech factories to be fully up and running, and the Ex-hell horses still have a love for tanks. Also I think I remember somewhere that the horses like HAG's. So here is the classic Main gun / secondary gun don't mind me I'm just a tank configuration.
D
-2 super charger
-12 UAC-20
-4 Ammo
-4 2 Medium Pulse Lasers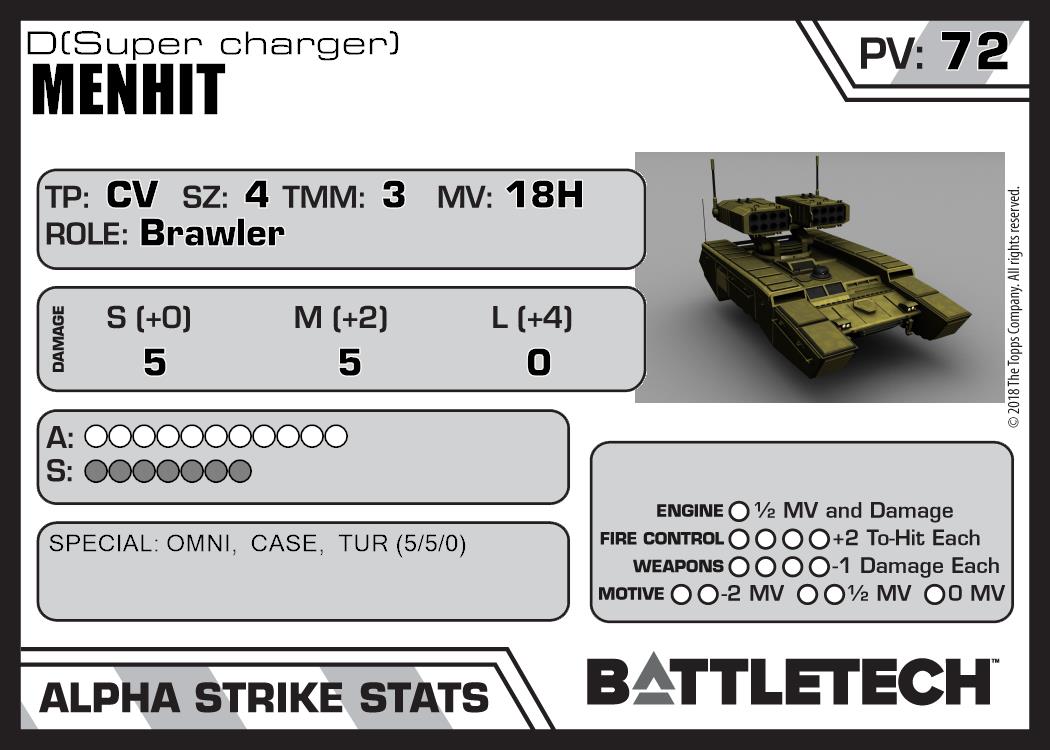 And Finally, that supercharger I've always wanted. With an UAC-20. And some Medium pulse lasers. You know, for scale. Also it can charge for 9 damage. Just saying.

Now back when I was originally planning this design, it was supposed to be part of a trio of designs all made by the Stone Lions. Sadly I don't remember the names, but I think I was going with an Egyptian theme. Menhit herself is an Egyptian goddess who of course has some tie on the concept of "War" The second Hovercraft was supposed to be on the flanks of a menhit formation. A bit faster, and a more dedicated long range sniper/skirmisher. Third design, not a clue. But would probably be a scout to fill out the roles.